International Society for Environmental Epidemiology
In this issue...
New ISEE Member Portal

Annual Conference News & Education

Journal News

Committee News

Chapter News
New ISEE Member Portal



A New Member Interface Experience


To better serve you, ISEE is excited to announce that we are launching a new member portal and web site this spring. Please watch your emails in April and May 2021 for Subject line: New ISEE Member Portal for information about how to login to the new portal and update your profile. We encourage all members who need to renew before May 1 to pay their dues promptly! During the transition in April, processing times may be delayed, and we do not want to miss anyone. Please address your questions to the ISEE Secretariat.
Annual Conference News & Education
ISEE 2021, August 23-26

We look forward to having you join us in viewing the latest findings with colleagues from all around the world for the 33rd Annual Conference of the International Society for Environmental Epidemiology (ISEE 2021)!
Registration is set to open toward the end of April 2021. Visit our Website here for more details.
Virtual Courses and Webinars
ISEE is proud to offer our members a variety of virtual educational opportunities.
Register today:
Sponsor
Title
Speaker
Date & Time
Registration
SEE-SPER
New Insights into Environmental Exposures and Uterine Leiomyomata
Moderator: Dr. Traci N. Bethea; Speakers: Drs. Ami Zota, Anna Pollack, Amelia Wesselink, & Birgit Claus Henn
May 11,
12-1:30 PM ET
Register Here
North America Chapter
Negotiation Skills for a New Position, Promotion, Collaboration or Publication
Dr. Robert Wright
June 15,
12-1:00 PM ET
Register Here
Anti-Racism Task Force
Race – The Power of an Illusion
Panelists: Dr. Evelynn M. Hammonds & Dr. Clarence Gravelee
May 6, 20 & June 3,
12PM - 1:30PM ET 
Register Here 
Health Effects Institute
Health Effects Institute 2021 Annual Conference
Multiple Speakers
April 6 - May 25
Register Here
Journal News


ISEE Commentaries
Check out the latest ISEE Commentary in Epidemiology, "Greening the International Society for Environmental Epidemiology" by Pascal et al. You can access the ISEE Journals section here.
Committee News


Ethics and Philosophy
Survey of Stressors Faced by Epidemiologists
The COVID-19 pandemic, the climate crisis, and pressures on scientists have made epidemiologic research challenging. Epidemiology researchers face unique difficulties as well as new opportunities. To understand the situation better, in July 2021 the ISEE Ethics & Philosophy Committee will launch a survey on the living situation, adversities and health of researchers.
The survey will provide results that the society can use to improve health in general and the health of researchers in particular. All ISEE members will be invited to participate. For more information contact Jutta Lindert.
Anti-Racism Task Force
ISEE's Anti-Racism Task Force, in partnership with the University of Michigan Institute for Social Research and the Interdisciplinary Association for Population Health Sciences, is hosting a 3-part webinar series on the origins and meaning of race. Each session will consist of a one-hour screening of an episode from the award-winning documentary series Race - The Power of an Illusion followed by a 30-minute live streamed panel discussion. Register Here.
Thursday May 6, 12PM - 1:30PM ET
Part 1: "The difference between us"
Thursday May 20, 12PM - 1:30PM ET
Part 2: "The story we tell"
Thursday June 3, 12PM-1:30PM ET
Part 3: "The house we live in"
Chapter News


Latin and Caribbean Chapter, New Chair – Marcela Tamayo y Ortiz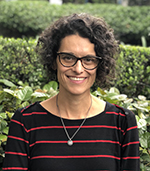 It is with great pleasure that we announce the election of Marcela Tamayo y Ortiz as the new Chair of the ISEE Latin and Caribbean Chapter.

We look forward to continuing to strengthen this Chapter and creating opportunities in this region!
Please note, there is an updated email for this Chapter: isee.lac.ch@gmail.com
Pan American Health Organization (PAHO)

Basic Environmental Epidemiology - 2nd Edition 2020
This ongoing course will assist in identifying the different types of studies in environmental epidemiology, for their application in the analysis of the environment and public policies, in order to monitor diseases and other population health problems, based on the recognition of risk factors and causality criteria. For more information or to enroll, click here.

Africa Chapter

Members should have received an email regarding a call for nominations for the ISEE Africa Chapter Executive Council Election 2021.
The Africa Chapter of ISEE (ISEE AC) is seeking nominations for five elected positions (listed below) in the chapter executive council from full members of the Africa Chapter residing within the region.
Chair

Deputy Chair

Secretary/ Treasurer

Councilor (2 positions)
If you did not receive an email, kindly contact the Secretariat.