International Society for Environmental Epidemiology
In this issue...
Annual Conference News and Education
Chapter News
Important Information for ISEE Members
Member Spotlight
Annual Conference News and Education

The COVID19 pandemic has an immense global impact and has claimed many casualties. Our deepest condolences go out to the people who have lost a loved one and to the people who have suffered during this pandemic.
To protect people's health and wellbeing, this year we will have to cancel the in-person conference scheduled for August in Washington DC and instead organize a virtual meeting for 2020. We are very grateful for all of the work done by Drs. Melissa Perry, Carlos Santos-Burgoa, and Pauline Mendola, as well as George Washington University Milken Institute School of Public Health for organizing and launching this year's annual conference. We will build on that work to turn it towards the virtual meeting, and we are all committed to making this new format a resounding success.
We will be sending announcements and new timelines to keep you informed.
In the meantime, we count on you to provide the support and commitment to make the virtual conference happen. We can do this together (while keeping two meters apart). Read More
ISEE North America Chapter Webinar: Updates from EHP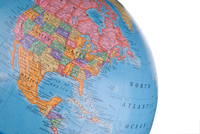 Join the North America Chapter for a discussion with Joel Kaufman, the new Editor-in-Chief of Environmental Health Perspectives (EHP), April 30, 2020 12pm U.S. ET. Dr. Kaufman will discuss EHP generally and some tips on manuscript submission and revision. REGISTER.

Africa Chapter Seeking Partnership with Environmental Health Meetings
Organizing chapter events/side meetings during meetings in Africa being attended by ISEE members is a way to execute the mission of the Africa chapter. Let us know if there is such an upcoming meeting that will advance the cause of the ISEE Africa chapter (virtual or face-to-face when normalcy returns). Please send an email to adetoun.mustapha03@alumni.imperial.ac.uk
Important Information for ISEE Members

Your ISEE Membership Profile
We encourage all ISEE members to update their membership profile. The more ISEE leadership can learn about your interests, the better we can serve you. To update your member profile, Sign in at the top of the ISEE website, then click on your name, and use the pencil and plus sign icons to edit or add information to the various sections.
Members residing in Lower- and Middle-Income Countries
ISEE has recently reduced the membership fee for members residing in Lower- and Middle-Income Countries (LMIC). If you are a resident of a country defined as an LMIC by the World Bank, you are able to join/renew at the reduced rate. We welcome members in LMIC's to pay the full or standard membership rates if able.
Full Membership
ISEE has a new membership option! A Full 1-year membership of $250, which includes a $20 contribution to support travel awards to the ISEE conference for students from low- and middle-income countries or training workshops in these areas. You will have the option to determine how you want these funds to be used when you complete your registration. Your receipt will only show a full membership total of $250.
If you are a current member, and would like to change your membership category, please contact the ISEE secretariat. You can review all membership categories and rates on the ISEE Membership webpage.
Barrett Welch
Postdoctoral fellow
National Institute of
Environmental Health Sciences
National Institutes of Health
Member Since 2016. ISEE SNRN Steering Committee Chair
"I am drawn to ISEE because of the strong emphasis to promote novel science alongside practical solutions to address environmental health issues."