International Society for Environmental Epidemiology
In this issue...
Call for Nominations
Annual Conference
ISEE, ATS and ERS Joint Statement on Post-COVID Recovery
Chapter News
ISEE Membership
ISEE Executive Council Call for Nominations

The ISEE Nominations Committee is seeking nominations from active ISEE members for three positions on the ISEE Executive Council. Nominations are due on September 28!
Councilor for Africa (2021-2023)
Councilor for Asia (2021-2023)
President Elect from North America (2021; assumes presidency in 2022)

Details on the positions and nomination procedure here.
To nominate an ISEE member, please click here.
ISEE hosted its first virtual conference August 24-27, with 1800+ participants from 70+ countries convening online to share valuable research and discussion for improving environmental health policy worldwide. The full meeting is available on demand to registrants until February 28, 2021. ISEE members can access enduring materials anytime, such as the Keynote speakers and Award presentations via the ISEE Global Education You Tube Channel. See the Abstract E-Book and view the Annual General Membership Meeting and Awards Session slides.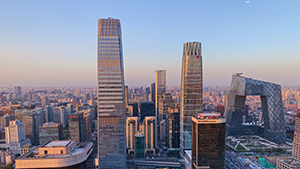 MARK YOUR CALENDAR: ISEE 2021 will be held in Beijing, China, August 24-27. Stay tuned for more details.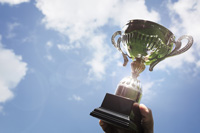 New Researcher Abstract Awards
Congratulations to the following winners of the 2020 SNRN Best Abstract Awards:
Student Researchers: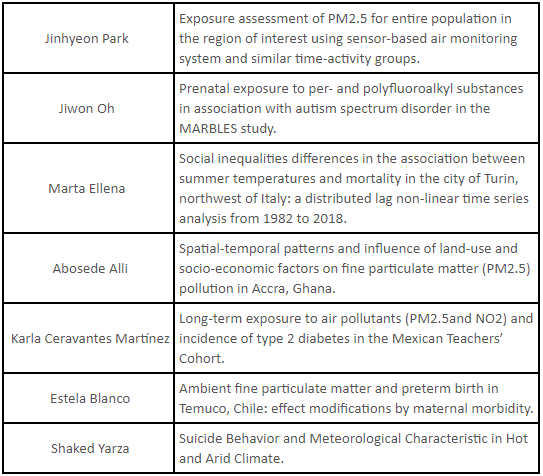 ISEE, ATS and ERS Joint Statement on
Post-COVID Recovery
Bounce Back Better: Sustainable Strategies for a Healthy Recovery from
the Pandemic
The American Thoracic Society (ATS), European Respiratory Society (ERS) and International Society for Environmental Epidemiology (ISEE) are dedicated to improving health around the globe, with ATS and ERS achieving this goal by advancing research, patient care and public health in pulmonary diseases, while ISEE advances research on environment and health. The COVID-19 pandemic of 2020 has presented unprecedented challenges on multiple fronts. Like the climate emergency, the COVID-19 pandemic is an existential threat. Read more to view a joint statement.

Africa Chapter Elects New Councilors
We are pleased to announce that following the successful 2020 ISEE Africa Chapter election, Winnie Kansiime (Uganda) and Penny Murage (Kenya/UK) have been elected as Councilors while Firdu Zawide (Ethiopia) and Eric Coker (USA, conducting research in Uganda) were selected as Ex-officio members of the ISEE Africa Chapter Executive Council.


North America Chapter Elections
The North America Chapter is seeking nominations from chapter members for two council positions with three-year terms starting in January 2021. Please submit a nomination via this form no later than September 30th. Self-nominations are welcome.
For more information about the chapter, view the newly launched website, which includes information about the chapter's leadership, mission and activities.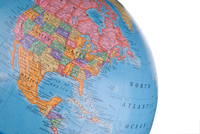 North America Chapter Webinars
Register today for three important webinars:
All Things NIH Study Section, presented by Francine Laden and George Thurston, September 24 @ 12PM EST: Register
The Haves, The Have-nots, and the Health of Everyone: What's the Connection and Why it Matters for Sustainability and Environmental Justice, presented by Rachel Morello-Frosch, October 13 @ 12 PM EST: Register
NIEHS K99/R00 Grants, presented by Abee Boyles, Joan Casey, and Carol Shreffler, October 29 @ 12PM EST: Register

The ISEE Young 2021 conference will take place online February 17-19. This early career conference from the Europe Chapter is hosted by the Swiss Tropical and Public Health Institute and University of Basel. The call for abstracts is open until October 16, 2020. Visit the website for more details and registration.

Join a Committee and make a difference
ISEE is run by volunteers. Your involvement enables the Society to survive and continue its initiative to foster the study of health and the environment and create meaningful membership experience. Through your participation in a committee you can foster your career development and network at a deeper level.
Click here for more information about ISEE's committees.
If you are interested in joining a committee, please send an email to the
ISEE Secretariat.

Support ISEE while you shop online
As the holiday season approaches, remember that you can donate .5% of your Amazon purchase price to ISEE. To take advantage of this program, start shopping at smile.amazon.com and register to support "International Society for Environmental Epidemiology" before you make your purchases. These donations will go into ISEE's general account and will be used to improve the services offered by the society.